Happy Holidays from the Thunder Lotus family!
Hey everyone!
Another year comes to a close, time to take you on a journey down memory lane to reminisce on everything that happened in 2021… but first, I'd like to extend our deepest and most sincere gratitude to each and every one of you, we really wouldn't be where we are now if not for all of your love and support.
Please stay the best darn community we've ever seen! 🥰
---
Start of 2021 – Winter
At the start of the year, we unveiled the plans that we set in motion in November of 2020.
We had reached out to our lovely Discord community for their feedback on what they'd like for us to make in 2021 for Spiritfarer and, after a few months of discussion, upvotes and deliberating, we finally locked in our plans for the year, based on our interests and their feedback.
At the start of February, once everything was ready, we thanked them by sending them a quick sneak peak of what would become our future roadmap.
A week later, our official 2021 Roadmap was released!
We announced three major free content updates for Spiritfarer, each releasing during a different season this year.
Now, all that was left to do was to actually make them!
---
Spring
Spring was the real start of what would be a very busy year. In April, we released our first content update: the Lily Update.
Although it was the smallest, this update brought a major change to the way we handled the ending of the game, by giving a lot more context to our lovely protagonist's life prior to the start of the game.
Then, we reached out to AbleGamers to help setup a panel of disabled individuals, to help guide our judgement regarding how to best approach Gustav's disability discourse.
Immediately after, we hit our first major milestone with Spiritfarer: 500,000 copies sold! We were so happy and were so eager to celebrate it with everyone. With the pandemic and the weather being what it was, we couldn't realistically do it in person… but we were in luck! An online convention was just on the horizon: LudoNarraCon
I was joined by Jo, our Art Director, and Nicolas, our Creative Director, in our first real online convention! I hosted an hour-long talk show each day of the convention, where we answered questions about Spiritfarer, its world and its creation. If you haven't already, you can watch all of it on our YouTube, but be warned that there's lots of spoilers!
---
Summer
Our Summer was buuuusy.
It started out with a bang with Summer Games Done Quick! JeviLevee invited me to sit on his virtual couch during the show, where he showcased how he achieved the any% world record speedrun of Sundered, directly from the online big stage! His luck was unreal and the run was amazing!
Thanks again for the invite! The Sundered speedrunning community is proud of you! 🥳
Then, Max LL, our awesome friend and the composer for our games, released a brand new sheet music for What Will You Leave Behind (end credit song for Spiritfarer)!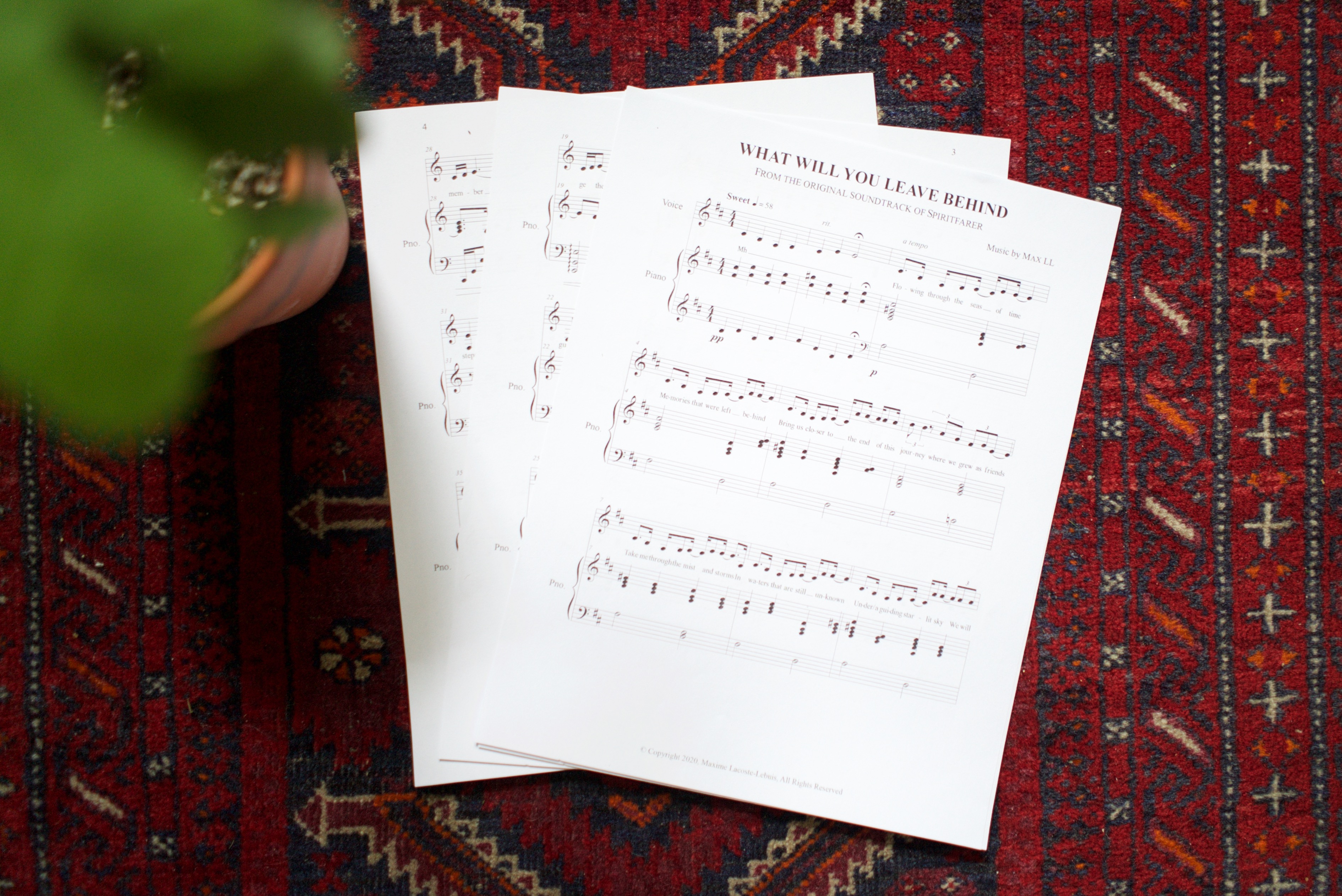 Shortly after, TheEscapist premiered their Documentary on Spiritfarer, where the team and I reminisced about how Spiritfarer came to be and its release's impact on us moving forward. Being a big fan of Yahtzee, it was such a surreal journey for all of us to say the least!
A couple weeks later, iam8bit released the Physical Edition of Spiritfarer, for both PS4 and Switch, and would soon after tease the Collector's Edition & Vinyls, aimed to release next year 👀
Summer ended with the planned release of the Beverly Update. It brought our first full-length spirit story to Spiritfarer and a slew of much needed quality of life changes.
---
Fall
Spooky season started with a heavier note this year.
We kept true to our promise and, in late September, we finally released the revised version of Gustav's story, with the help and feedback from our wonderful panel of disabled individuals. We'd like to take the time to thanks them again for sharing their viewpoints and enriching our own, and shoutout to AbleGamers for putting us in contact with these lovely people.
Then, we had the pleasure of announcing our partnership with FanGamer in the creation of a Spiritfarer Shirt (out now!) and a Daffodil Plushie (coming next year 👀)!
And finally, we announced the release date for our last update, the Jackie & Daria Update.
Since this was by far the largest update we had planned for the game, we wanted to make it special!
It contained two additional full-length storyline for these two spirits, on a brand new island with a new event to experience! As grand as it was, being the last update, we wanted to make it extra with a proper send-off.
---
Farewell Edition
December finally arrived and the time to say farewell was upon us… to the year 2021, but also to something more than just a project.
By this point, we had decided that we'd be parting ways with Spiritfarer after this last update and, now that it was ready to be released, we decided it needed to be sent off with a big celebration. That's when the Farewell Edition came to be. Let's take some time to reflect on all that happened.
From its inception in 2018, its announcement at E3 in 2019, its release amidst a global pandemic in 2020, its three content updates this year… to its eventual conclusion, Spiritfarer was an epic journey we will not soon forget. Truthfully, making this game really helped us work through a lot of memories (good & bad) and remind us of loved ones we lost. It helped us experience feelings we had yet to fully embrace and create new memories. It helped us bond with others whose experiences matched our own. And it helped us grow.
Spiritfarer has reached its biggest milestone to date: 1 million copies sold this year! It was even nominated for many prestigious awards and won a handful!
→ 2019: Digital Trends Best Of E3 2019 Awards (Best Visuals), Tom's Guide Best Of Awards (Best of E3 2019)
→ 2020: Game Awards (Best Indie, Games for Impact), The Toledo Blade (Game of the Year), IGN Game of the Year Awards (Best Adventure/Puzzle Game), Gamespot Best Games of 2020 (Game of the Year, Top 10 Games of the Year, Nintendo Switch's Best Games of 2020, PC's Best Games of 2020, Xbox One's Best Games of 2020), Polygon best 50 games of 2020 (#24), The Guardian Best 15 Games of 2020 (#13), L.A. Times Best 10 Games of 2020 (#10), Rock Paper Shotgun: List of Favorite Games of 2020, NME the Best 20 Games of 2020 (#17), Vulture 10 Best Game of 2020 (#6), Unity Awards (Best Desktop/Console Game), NAVGTR Awards (Outstanding Art Direction, Contemporary, Outstanding Character Design, Outstanding Game, Special Class, Outstanding Use of Sound, New IP), Game Debate Global Game Awards (Best Management), Resetera Game of the Year Awards (Best Adventure Game, Best Xbox One Game),
→ 2021: Canadian Game Awards (Best Indie Game, Best Art Direction, Best Score/Soundtrack, Game of the Year, Console Game, Best Narrative), BAFTA Game Awards (Animation, Game Beyond Entertainment, Original Property), DICE Awards (Outstanding Achievement in Animation), Nebula Awards (Best Game Writing), Hugo Awards (Best Video Game), Canadian Screen Award (Best Video Game), Indie Publishing Awards (PR & Marketing Campaign Of 2020), Independent Games Festival Awards (Seumas McNally Grand Prize, Excellence in Audio), Can I Play That Accessibility Awards (Most Therapeutic Game), Games for Change Awards (Best Gameplay), Global Game Industry Awards (Narrative Design), Dreamhack Dreamies (Mind Melting, Innovative Ideas, Daringly Dramatic, Absolutely Adorable, Emotionally Explosive).
Not to forget the glowing reviews from Metacritic (84), Opencritic (91%), Steam (Overwhelmingly Positive) and far too many review websites to count! 😅
Thank you for taking this adventure with us, genuinely. Whether you played through Spiritfarer, watched a playthrough, recommended to friends, or reached out to share your experiences with us directly, thank you. Without your support, we wouldn't be where we are today! You made all this possible and made this journey all the more worthwhile!
Thank you!
---
End of 2021
Now that the year is finally over, our yearly tradition is back! As you might know, we like to share the love for this wonderful industry by listing the favorite games we played each year! This year is no exception! Go check out the games we enjoyed in 2021!
We're now a lot of people, so there's something for every taste! You might even find something fun to try during this holiday period!
---
Plans for 2022?
First off, we'll be moving into a brand new office in January!
Although the pandemic hasn't fully let up (and we're still mostly working from home), our company has grown so much over the last two years that we no longer fit in our old building! We're so excited to enter the new building, it even has an outdoor swimming pool? 🤿
Game development wise, the Spiritfarer Team is now going to be working full time on a brand new exciting project! Unfortunately, there's still a lot of work before we're ready to unveil anything, but we can barely contain our excitement for you to see what we've been working on! You'll have to stay tuned!
If you want to stay up to date with our news, I highly recommend you sign up for our mailing list, if you haven't already!
---
Now here we are… days before the year 2022.
What a year it's been. It started with only three key events in mind, and it feels like so much happened! Again, thank you so much for the support! Thanks for permitting us to share out passion for videogames with the world, and thank you for playing!
Stay happy, stay healthy, have a happy holiday season and a happy New Year!
See you in 2022!
Lots of love,
-Med and the Thunder Lotus team